Steve's Shipyard
---
SWEAT PEA
---
My wife's grandfather recently passed away. TK Erickson was a talker (an importnat position in a 5" gun crew) on the USS Portland. The ship was named for the coastal city Portland, Maine. The ship battled throughout the war, from Guadalcanal to Leyte to the surrender.
The Portland is memorialized on ussportland.org. I've got a new cruiser that battles as the Portland. Check it out!...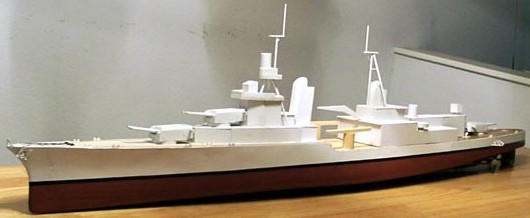 Here's the Portland in action at NATS 2001, shooting up targets with a friendly FROG!
I gave Portland a refit in 2006, prior to NATS in Orlando. Here's a few shots!
Here's a photo of Portland at 2006 NATS in Florida!
Click here to see all of Steve's ships!
Click here to return to my home page.