Steve's Shipyard
---
MY PHOTO ALBUM
---
TO CRUISERS! TO CARRIERS! TO BATTLESHIPS! TO BATTLECRUISERS! HOME
CARRIER PHOTOS:
Photos of my new USS Yorktown being constructed:
Hiryu model at NATS: Photo1 Photo2
Lexington - US fleet carrier model.
Yorktown - at Pearl Harbor drydock, photo from starport bow.
---
CRUISER PHOTOS:
Photos of my cruiser, USS Portland, at sea:
Photos right after Portland was built:
Photos of my new cruiser being constructed:
Photos of my first USS Houston:
---
BATTLESHIP PHOTOS: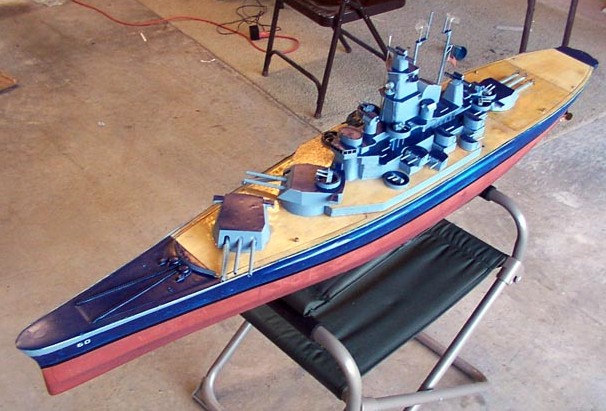 My Alabama:
Photos of the Alabama during construction:
My new Gneisenau, which I scratch built!. Here's the early stages:
Here's my progress in May 2005, getting ready for the Fray:
Gneisenau received her first refit in the spring of 2007:
Here is Gneisenau after refit, in the pool!
My first model of the Gneisenau:
Photos from Noel Cook, the new owner:
DESTROYER PHOTOS:
My model of the German destroyer, Z-38:
OTHER PHOTOS:
DKM Lutzow - Deutchland class pocket battleship, one of the most popular first-time models for rookies to build.
DKM Bismark - most powerful German battleship ever. Even I had to build one!
Ted Brogden's USS Indiana:
Indianapolis - US cruiser before and during WW2. Her sister ship is the USS Portland.
Recent photos of Chris Pearce's USS North Carolina:
Admiral Fluegel's SMS Baden:
Static model of the USS Texas, that I restored
---
Click here to return to my home page.