Steve's Shipyard
---
Building the USS Houston
---
This page has photos of the USS Houston, under construction. Click on a photo, to see more photos of that stage of construction!
I took several photos on December 20, 2000, the first real day of building:
On December 22nd, I spent 6 hours building 3 main turrets. That's 2 hours each: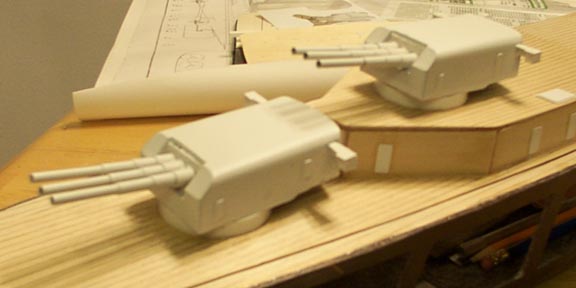 On December 23rd, the superstructure started to take shape, with two paravanes and two SOC-3 planes built: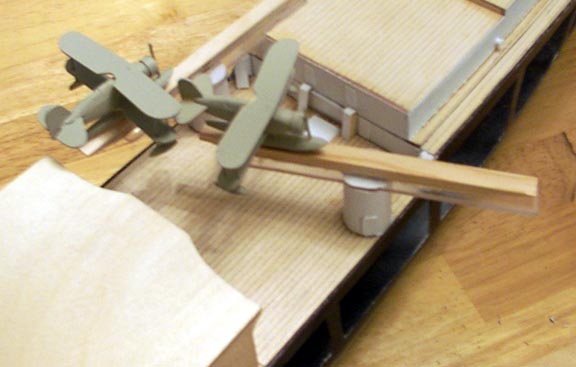 For Christmas, I finished the catapults:
December 26th, I started work on the forward superstructure. I found several errors on the Swampworks "poindexter" plans, but using photographs and the US Navy drawings from 1932, I was able to create a superior Houston superstructure:
For the new year, the formast work neared completion:
By January 7th, the forward half of the new USS Houston was beginning to really take shape:
By January 10th, the aft stack was up:
By January 13th, the crane was up, and the catapults rebuilt. Ladders also were added:
It's April already, and the ship is coming together. Here are some shots of the 40 foot motor launch master (for molding multiple boats):
By April 14th, the new ship hit the water! More work to be done, but she's looking trim!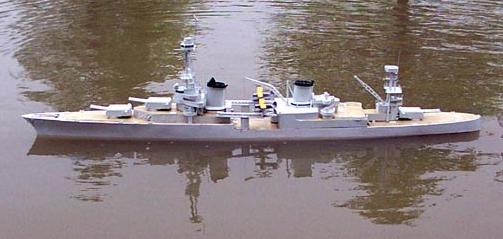 Click here to see all of Steve's ships!
Click here to return to the home page of the Model Warship Combat Chapter of Houston.